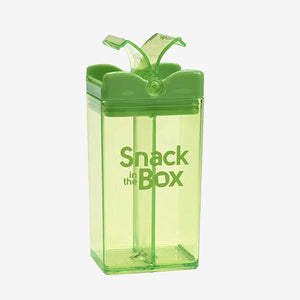 Snack in the Box – A better and reusable-way to pack healthy snacks, protect them from getting crushed and mushed in your bag.
Twin chambers let you pack 2 different snacks.
Durable Tritan™ pop-up doors make it easy to pour a small handful as you go.
Unique patent-pending design.
Designed in Canada by Precidio with USA-made Tritan™ material. Fully tested for safety and durability.
A must for school lunches, car rides, cycling, taking the kids shopping, going for walks, picnicking or anywhere you may want to bring along a treat. The twin pop-up lids let you easily flip the doors open and pour out your favorite snacks.
Now you can bring a healthy and fun snack along and shake them out into your hand when you need a little nibble. Carry cheese cubes and crackers without mushing or them getting soggy. Stop buying expensive prepackaged snacks that can hide sugars and preservatives and use healthy snacks instead. Bring along fresh berries, crackers, nuts, or any type of dry snacks you can get at your local grocery or bulk store.
Specifications: 
Size: 355ml / 12oz
Material: Eco-friendly Tritan™ and food-grade polypropylenes are BPA/BPS and Phthalate free
Dishwasher friendly, easy to take apart for cleaning